MUSICARIUM'S TRAINING CYCLE
Musicarium is a professional training center for young musicians and excellent orchestras. We invest in students who are passionate about music and who aim to pursue a career as professionals. Our goal is to build a Philharmonic Orchestra by 2030 with these students as well as future teachers for our Music Academy, thus creating a virtuous cycle of training.

Musicarium's Training Cycle is divided into six stages: first, Musical Introduction, then four stages of Training Programs, and lastly, a stage of intensive studies for Higher Education.
The different levels of training are related to theoretical and complementary disciplines, while instrumental practice is developed in parallel, individually, throughout the training cycle, thus optimizing the pace of student development in different artistic, musical, and technical skills.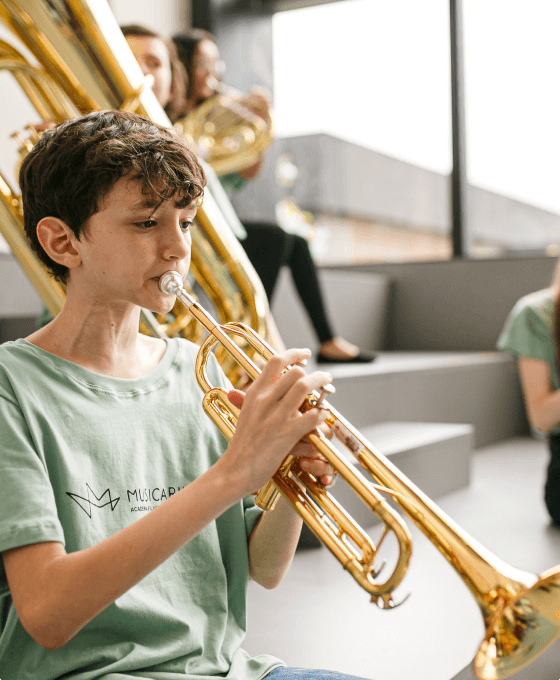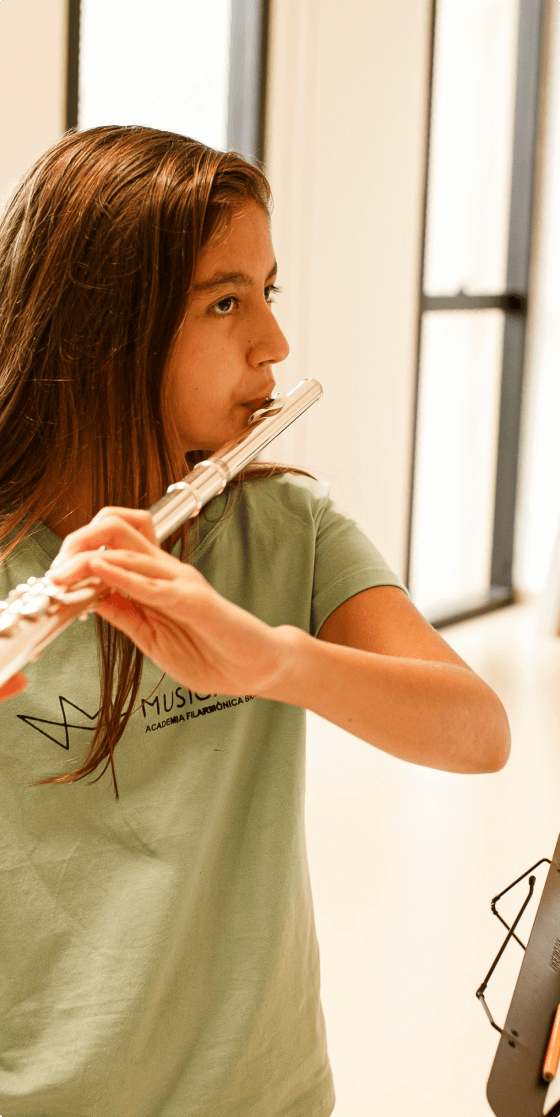 MUSICAL INTRODUCTION PROGRAM
Duration: 4 semesters
Age range: 4 to 6 years old
Instruments taught:
Violin
Recorder
Classical percussion instruments
This program does not require prior musical knowledge, it seeks to develop sensitivity and skill through practice and leaning with instruments in a group.
BEGINNER LEVEL MUSICAL EDUCATION PROGRAM
Duration: 4 semesters
Age range: 7 years old and older
Classes taught:
LPM (Language and Musical Perception) – in group
Choir
From this stage, the student begins his/her studies to become a future professional musician, choosing or being directed to one of the instruments that makes up the orchestra:
Strings – violin, viola, cello and double bass;
Woods – flutes, oboes, clarinet and bassoon;
Brass – trumpet, French horn, trombone and tuba;
Percussion – timpani, triangle, snare drum, bass drum, cymbals, bells, xylophone, vibraphone, marimba, among others.
BASIC LEVEL TRAINING PROGRAM
Duration: 4 semesters
Classes taught:
LPM (Language and Musical Perception) – in group
Choir
INTERMEDIATE LEVEL TRAINING PROGRAM
Duration: 4 semesters
Classes taught:
Solfeggio – in group
Language and musical perception – in a group
Complementary piano – individual
Chamber and orchestra music practice
From the intermediate level, the student can start the complementary piano lessons, according to the availability.
ADVANCED LEVEL TRAINING PROGRAM
Duration: 4 semesters
Classes taught:
Music history – in group
Harmony – in group
Counterpoint – in group
Fugue – in group
Complementary piano – individual
Musical analysis – in group
Chamber and orchestra music practice
INTENSIVE PREPARATION PROGRAM FOR HIGHER EDUCATION
Duration: 2 semesters
This program focuses on continuing education at an advanced level, aiming to prepare students to enter higher education courses in Brazil and abroad.
At this stage, in addition to intensive practice, the student will have piano lessons, a requirement for admission to foreign universities, regardless of their first instrument. The student will be placed in a masterclass schedule specifically designed for their full musical development. At the same time, language and soft skill courses are offered to facilitate the process of adapting to other cultures.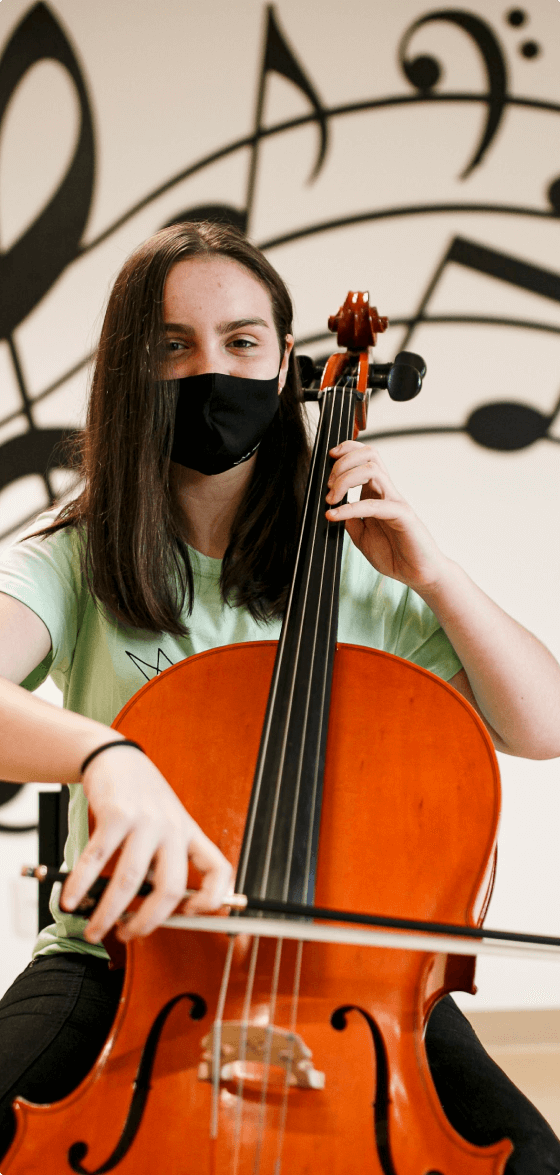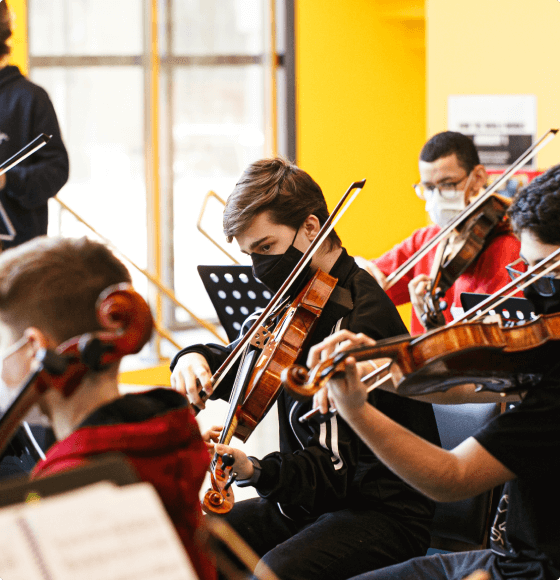 Musicarium's Camerata practice – June, 2021.

CHAMBER GROUPS AND ORCHESTRAS
Upon entering the Basic Level Training Program, the student can be selected to be part of one of Musicarium's Orchestras: Children's or Experimental Youth.
By integrating one of them, it can also be included in one of the Musicarium Chamber Groups: Camerata, Wind Ensemble, Brass Ensemble or Percussion Ensemble.
As a member of one of the Orchestras/Chamber Groups, the student starts to attend group practices and general rehearsals, normally held on Saturdays, from 9 am to 3 pm.

WORKSHOPS, MASTERCLASSES AND PRESENTATIONS
The Musicarium Programs are permeated by a regular schedule of workshops, masterclasses, and presentations, which can be optional or mandatory, depending on where the student's level.
The workshops generally take place twice a year — during school recess — and consist of a period of 3 to 5 days of intensive group practice and learning, with both in-house and guest teachers.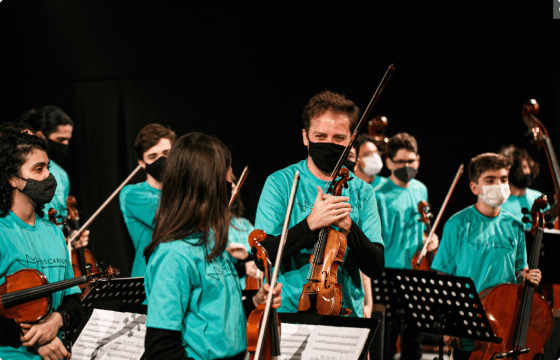 Workshop with Alejandro Aldana, Spalla of the Orquestra do Teatro Municipal de São Paulo – July 2021.
Masterclasses are held frequently throughout the year, with special teachers or speakers to address specific topics aimed at small groups, or with individual focus on a few students to meet students' development needs.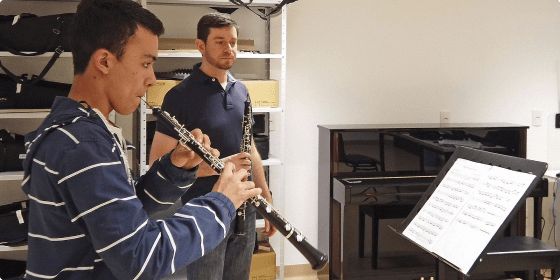 Masterclass with Ricardo Barbosa, first Oboe of Osesp – December 2021.
Musicarium promotes several internal and external PRESENTATIONS throughout the year. They are opportunities for students to get used to the routine of live performances, which are part of a professional musician's life.
Formats range from large concerts, with the Orchestra and Chamber Groups, to small group and individual recitals. Part of these presentations are made in return for sponsors, in events to promote Musicarium, or also to promote musical culture in the region. These actions represent an important aspect of the institution's sustainability and sociocultural function.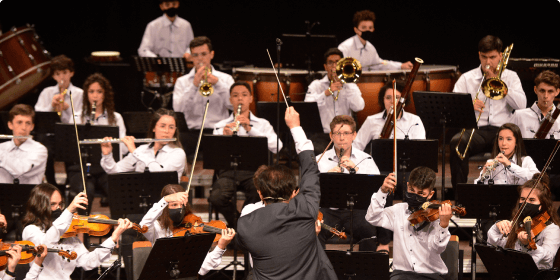 Admission to Musicarium occurs exclusively through a selection process carried out twice a year, in January and June. Candidates also undergo placement tests to determine at which level of each subject they should start their training process.
The number of places offered, as well as the level of prior musical knowledge required, is determined by availability and needs of the academy.
Applications are done electronically, published at the opening of each selection process. Subscribe to our Newsletter to find out when registration dates occur as well as other Musicarium information.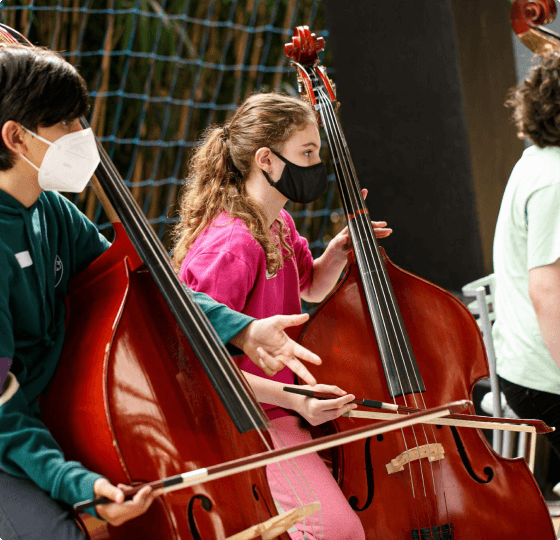 What we are witnessing today is a repetition of fundamental elements in our history, which will, most likely, change the level of our city. Joinville will become an example of a city which will inspire other cities to be better.

Danilo Conti – Director of Cidade das Águas
I am sure that the combination of these two projects will have an impact that will be difficult to measure. Joinville, which is the city of dance, city of flowers, and city of bicycles, will also be the city of classical music and the best quality of life to live in.

Felipe Hansen – President of the CRH Group
Art – music, culture – is the pinnacle of all innovation. So having art as the foundational DNA of this neighborhood, for us, is a huge opportunity. Joinville deserves it. We will do our best to deliver the best possible environment for Musicarium.

Marcelo Gomes – Director of Pedra Branca Group
Joinville is a city designed by people integrated into society. These people do not leave culture aside, because it is culture that unites us.

Adriano Silva – Mayor of Joinville
Build something with a focus on people changes concepts, transforms lives, brings satisfaction and happiness (…) This donation will be a reference and an example for many to follow.

Ernesto Heinzelmann – Chairman of the Board of Directors of Musicarium
This is a delightful celebration not only of the land donation, but also of new and important opportunities for children, youth, and adults to experience. It is a wholesome experience from the creation of musicians and audiences, to cultural experiences through classical music.

Sergio Ogawa – President Director of Musicarium
Musicarium's work is in line with Yamaha's values and philosophy. We want to inspire people's passion for music, help them take a step forward and have that passion shared through performance.

Yuji Matsuoka – President of Yamaha Musical do Brasil
This project is very special because they care about children above all else. They will train children to become professional-level musicians and then form the orchestra. I think it's an excellent idea.

Motoo Komoda – CEO Nagata Acoustics
I feel good playing the viola and I enjoy the classes as well as the orchestra. I don't see anything that needs improving, the classes are great as well as the practices.

Pedro Lucas Melin Dunzer – Viola Student
We have had a fantastic experience since Pedro started studying music at Musicarium. He has learned everything very quickly and the result is already visible, despite the fact that he is playing classical viola, a very complex instrument to learn music, Musicarium's has gone far beyond that, as for us, it has become a place to socialize, meet friends, celebrate our day-to-day victories. My son returns home after each class with a smile on his face and always very excited. The enthusiasm for the projects makes us want to always be connected to this institution.

Maria Inês Melin (Pedro's mother) Pedro, viola student
I'm very happy to see how Gabriele loves being at Musicarium, so much so that, if she is going to go there every day, believe me, it's okay for her! Really, Musicarium provides an incredible opportunity to learn, live, and make music!

Gisele Scheid (Gabriele's mother) Gabriele, violin student
5 years ago, we introduced music to our son Cauê. Our goal was just to present one more option of knowledge and fun.
And along comes the Instituto Core de Música (now Musicarium) and, with that, that little seed planted without further intentions turned into something great. Today, in addition to learning high-quality music from top-notch teachers, he is part of a musical family that transforms him every day into a citizen increasingly prepared for the world we live in. Our gratitude.

Glênio Luiz Basilio Neves (Cauê's father) Cauê, cello student
In 2017, it was the year that our lives changed forever. Music is here to stay. Musicarium is the place where magic happens, love overflows in every note that comes out of the instruments. It is with great joy and pride that my daughter Gabriela Tormena Raulino is part of this great family. She loves being here and touching people's hearts along all her friends. Musicarium is not just a music school, it transforms people's lives.

Débora Tormena Raulino – (Gabriela's Mother) Gabriela, violin student

Frequently asked questions: